Student Testimonials.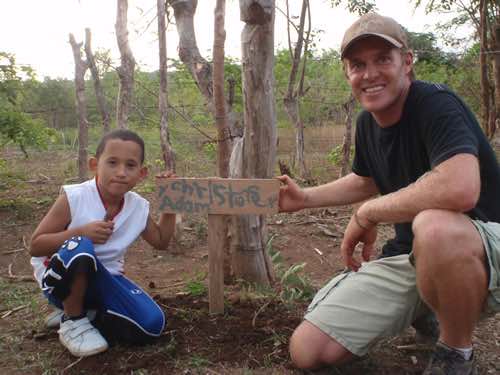 SSS Student Volunteer and Local Child
"
Read about one student who learned Spanish at SSS in just 2 months. She shares her story here!



~~~~~~~~~~~~~~~~~~~~~~~~~~~

"I spent 4 weeks at SSS. The teachers (includes everyone that are working in the school), homestay program and activities gave me a lot - and I kept increasing my stay! It's a perfect spot for learning spanish, making friends, and last but not least - learning more about Nicaraguan history and culture. I will for sure visit again. Gracias Veronica y todos que trabajan en la escuela!"
- Roar B., student from Norway
~~~~~~~~~~~~~~~~~~~~~~~~~~~
"I was so impressed with my experience at the school. The teachers were all so knowledgeable and friendly. I can't wait to go back!"
- Elizabeth H., Graduate Student Pennsylvania, USA
~~~~~~~~~~~~~~~~~~~~~~~~~~~
"In January of 2006, I studied at the San Juan del Sur Spanish School. It had such a great trip that when I got back to Quebec, all I could do was talk about the wonderful time I had! One of the best things about SSS is that each student has his/her own teacher. This one-on-one setting allowed me to significantly improve my Spanish. Students all take a placement exam upon entering the school so that the teachers can adapt the curriculum according to each student's needs. And, at the end, they take another exam to measure their progress.
You don't only study Spanish from books in this school – thanks to the afternoon activities, I got to know many different places and learn about life in Nicaragua. If you want a friendly atmosphere and a great school director, teachers, and classmates, then I recommend that you go to study at SJDS Spanish School. "
-Jacqueline L., Retired Professor, Quebec Canada

"I had studied spanish before: 3 weeks in
Alicante (Spain) 2003, 3 weeks in Cuernavaca (Mexico) 2004 and 5 weeks in Nicaragua in 2005-2006! San Juan del Sur was the school I prefered: one to one teaching... I made tremendous progress; new activities in the afternoon for me... fishing in the Pacific ocean and canopy tour. But first of all I enjoyed the spirit of the school and its conscientiousness towards each student! I wish to return next year...
I also liked the restaurants along the beach, a concert of a choir in the church, the special public market when a "crucero" stopped for one day at SJDS, the taste of the "nicaraguan" coffee, the beer Victoria, the rum Flor de Cana but more important the amiability of men and women and the security in the country. We walked and felt secure! And imagine what I still have to discover because I spent only 8 days in SJDS!"
-Rodrigue G., Retired School Director, Québec Canada
~~~~~~~~~~~~~~~~~~~~~~~~
My experience at SSS was excellent. I arrived in San Juan Del Sur speaking no Spanish and left four weeks later able to converse and even debate current events. Upon return to my university in the U.S. I was able to skip four semesters of Spanish and begin studying at the intermediate level right away. The instructors and staff were friendly and fun and the activities helped me get to know this gorgeous region and its culture.
-Liz R., Student, Massachusetts, USA
More coming soon!